Introducing Charles Heidsieck Chef de Cave Elise Losfelt
I met Charles Heidsieck's new Chef de Cave Elise Losfelt on an intense morning at a particularly pivotal moment of her career and asked her how a newcomer can carry on the legacy of one of the greatest lineages of chef de caves in champagne history.
Charles Heidsieck was one of the very first houses to spark my champagne obsession 25 years ago, and it remains one of just five houses deserving of my top ranking of 10/10 in The Champagne Guide. The exceptional standards it has upheld from Brut Réserve to Blanc des Millénaires have been all the more remarkable for the turbulent journey the house has endured across this time, very nearly fading into oblivion on more than one occasion as it was buffeted by ownership changes, neglect, volatile markets and financial turmoil.
More than any other champagne, Charles Heidsieck owes its remarkable distinction, its astonishing consistency and indeed its very existence to a lineage of particularly dynamic and remarkably talented chef de caves since 1976, from the legendary, late Daneil Thibault to the masterful Cyril Brun.
When Cyril announced his surprise resignation in early 2023 to become the first champagne chef de cave to move to an Italian winery, it was no small undertaking for the dynamic and sharp director of the house, Stephen Leroux, and its empowering and supportive owner, Christopher Descours, to appoint his successor.
They found her in 36-year-old Moët & Chandon Head of Vinification, Elise Losfelt.
When I asked Elise if I could catch up with her during harvest 2023, it turns out I could not have chosen a more pivotal or more nerve-racking moment in her career. She generously invited me to tag along for her vineyard and winery visits one warm and sunny Sunday morning, just as her first harvest at Charles Heidsieck was beginning to get intense.
'It's unknown territory for us this year, as we have never seen this level of heat, this volume of grapes, or this weight of the bunches,' she disclosed as she pointed out botrytis beginning to infiltrate the rows of a prized plot of pinot noir in Ambonnay. 'We are rejecting 30 percent of the grapes in some vineyards.'
After a decade immersed in vinification at Moët, Elise looked surprisingly comfortable and unflappable between the vines, even in a harvest as tumultuous as this.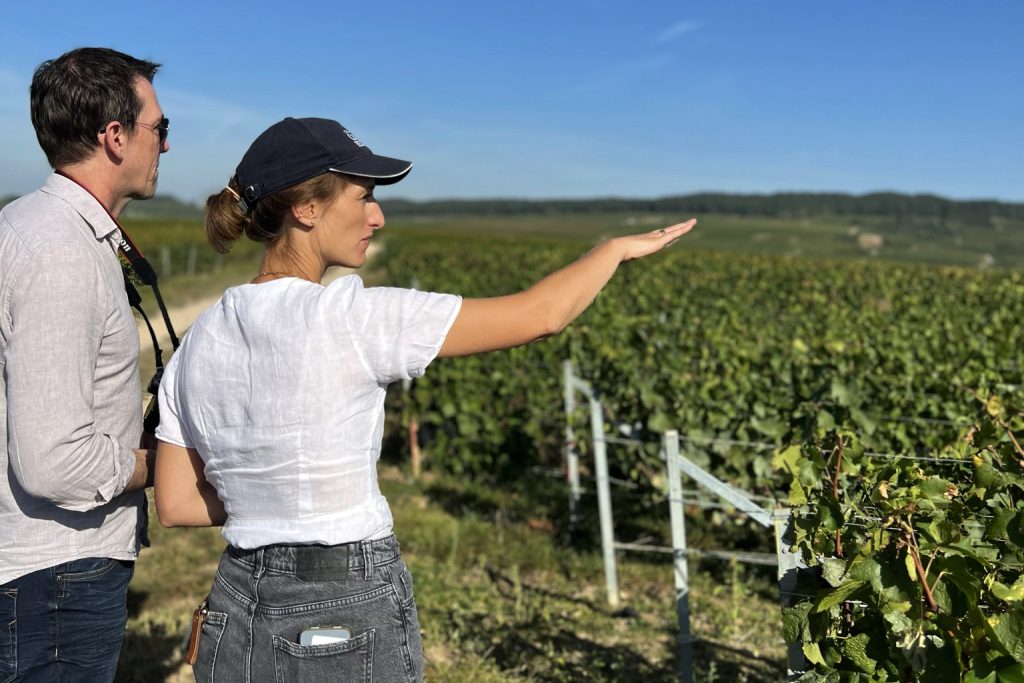 'This year I am rediscovering the tasting of the grapes that I learnt with my mum as a child,' she reflected. 'I am rediscovering my roots and it's a good sensation to be able to reconnect with my childhood.'
Winemaking was a childhood dream for Elise. 'When I was a small child I really wanted to be a winemaker like my mummy,' she recalled. 'She showed me the happiness of tasting the grapes. In the morning we would drink the juice out of the press. I spent every Friday over summer with her tasting grapes in the vineyards. I have no idea why she would take me, but now I feel like it's innate, and I have her to thank for this. I talk to her first every day during harvest.'
When Elise was appointed Chef de Cave at Charles, some journalists tried to make news that she was appointed just because she was a woman. 'I was pleased it didn't take,' she said, 'because it shows that the world has changed and there is no longer a stigma. There are more women in winemaking in Champagne now and we are less invisible.'
Winemaking is nothing new to the women of Elise's family. 'I come from a family of female winemakers and wine growers in Montpelier,' she explained. 'Before my mother, my grandmother took care of the vineyards and was the first to bottle the wines. She had an understanding of great wines from her own heritage in Bordeaux.
'My mother studied agronomy and I did the same before I changed to economics and enterprise management. I worked in this field for some years, and it was here that I learnt my attention to detail and focus on numbers.
This is a philosophy very closely in tune with her predecessors. Fanatical attentiveness to detail has long been a defining theme for the chef de caves of Charles Heidsieck.
'I am a control freak! I am such a control freak!' she laughed. 'I am into details, and my Moët formation emphasised this. Great wines are made in the details. There is intuition, and you have to follow it to see where you want to go. And then you have to create the path to achieve it, and that path is in the details.
'I have three boys and they teach me a lot about life; that you can't control everything! And you can really control nothing! Since I had my children, I see my wines a little like them. Sometimes you have to let them be and see what they can do, and sometimes you have some amazing surprises! Harvest is a lot about control. And tasting is a lot about letting it be and letting the wine talk to you.
'I had a fantastic experience at Moët since 2012, and I feel like I had to develop my expertise in vinification, checking yeasts for tirage every day, always on the ground in the field, focusing on all the data and how I could improve everything. Today I use the expertise I learnt to narrow down the specifics to raise the quality level of Charles.
'I try to challenge myself a lot and I look at a lot of data to see where the grey zones are in the winemaking. Because there are always grey zones. Sometimes it's good to leave them there and sometimes you can make them a bit whiter.
'When you are a technician like me you focus on all the little details. It is not my job to change the details but to sensitively say, "Maybe we should look at this?" It's quite challenging for me as I am used to doing it myself. I am a doer and I need to see the results of what I am doing.'
I witnessed her attentiveness to detail later that day when I followed her in smelling each individual barrel of chardonnay fermenting in Bergères-les-Vertus. The subtleties that she picked up in rating each barrel for reductiveness were impressive.
'The grapes give you 100 percent of the potential that they have at the moment of harvest and your job as chef de cave is to make sure that you do everything you can to keep 100 percent of that capacity until the end of the process,' she said. 'And that's all about the details, the really small things. This is what I really like. I am always asking, "Why? Why? Why?"'
'We have only one iteration per year to learn: harvest. And so maybe only 45 in your life. So you have to learn from the knowledge and the failures and successes of others. It is very important. I worked with Dominique Portet in the Yarra Valley and he told me to never stop listening to the people who have things to tell you.
'The collaboration in Champagne is one of a kind. Whatever the brand, the name of the product always begins with "Champagne". This gives everyone a common focus, and it really makes the difference.
'There are others in my winemaking team who have been at Charles for a long time. Making wines together, we are in a relationship where we are kind of like a family working together. Winemaking takes passion and a part of yourself that is involved in what you are doing. It is not just a job. Each member of the winemaking team puts something into it that is from themselves, and hence relationship is important.
'My arrival is disruptive and I am not the same as Cyril Brun. But I know where I am and who I am. I am 37 and just starting to understand winemaking. And I know that I can't reach the understanding of what I have in front of me without talking to people. I can't do it alone. The answer to what makes greatness is to never stop asking questions. I am calling my ex-colleagues at Moët & Chandon all the way through harvest. Talking to people about technical stuff and exchanging points of view is almost 80 percent of my job.'
Elise spent the first month in her role working alongside her predecessor, Cyril Brun. I visited Cyril shortly after in his home in Merfy, north-west of Reims. 'Elise and I finished the 2022 blends just two days before I finished at Charles Heidsieck,' he told me. 'I let her make them and she brought some great intuition to the blends, without deviating much from our standard blends.'
Elise really enjoyed that month. 'It was amazing working with Cyril!' she exclaimed. 'He's a funny guy and we laughed a lot. He has such great knowledge about the region, the terroir, the tasting and the wines. And he has a big knowledge of Charles Heidsieck going all the way back to his childhood, so he gave me a lot of detail.'
Elise highly values her relationship with her director, Stephen Leroux. 'He's an amazing person and he tells me, "Go for it, girl!"' she grins. 'He is an amazing human being and has been CEO for a long time, yet he listens to me, even though I am new. He was looking for a chef de cave to work with him as a partner, so I'm trying to be that for him, to say "yes" and "no" to things that are important to me. Even if I suggest something that makes his life more complicated, such as to delay the release of a cuvée, he agrees and revises his commercial plans. He listens to me; it's a partnership and a really enjoyable relationship.
'The focus that I am working on closely with Stephen is to take care of the future of the house, not only in what we sell, but in what we keep in the winery for the future Brut Réserve. I am talking about the Brut Réserve in 2032, with the reserves of 2020, 2021 and 2022. I'm focused on preparing for the future and making sure that I am able to recreate Brut Réserve for many years.'
Building the reserve stocks has been a key priority for Cyril and for Stephen in rebuilding Charles Heidsieck – particularly challenging in recent years, with small harvests in 2020 and 2021. Prioritising reserves over vintage cuvées has long been a focus for the house, a philosophy that Elise is resolute about upholding.
'I am going to be tough on the vintage tirage,' she declared. 'We are going to have to wait for really, really good years to create a vintage. I really want to preserve the reserve wines, because time is one of the keys for Charles that Cyril gave me.
The production of Charles increased from rock bottom of just 210,000 bottles in 2013 to more than 2 million in the bountiful 2022 harvest, with a long-term target of more than two million. 'The priority is to uphold four years of lees age for Brut Réserve, and my focus is to not reduce this,' Elise emphasised. 'So in order to increase production, we need to bottle more for a few years before we can stabilise. My job is to keep focused on the quality and make sure that the specifics of Charles are respected.
'What is important to me is the maison and not me. I am working for Charles Heidsieck. It is not my nature to want to be out in front. My happy places are in the wineries and the vineyards. Knowing that I can be working behind the scenes at Charles works for me.'
Elise is enjoying the opportunity to make coteaux champenois at Charles, a rare chance to showcase wines at a young age that she has made herself. As for every new chef de cave, she will otherwise be presenting the champagnes of her predecessors and laying down wines and reserves for her successors. 'I present the past and I work for the future, and this suits me,' she says.
Even in her short tenure to date, Elise Losfelt confidently embodies the spirit that is Charles Heidsieck: a pursuit of excellence through attentiveness to the finest details, a focus on collaborative achievement, and an innate sense of humility, grit and resolve.
Elise reflects fondly on her first six months at Charles and is excited to complete her first vintage and fully step into her role. 'Now is the time for me to, as Stephen says, "Put the suit on!"'
Photo credits: Sharron Turgeon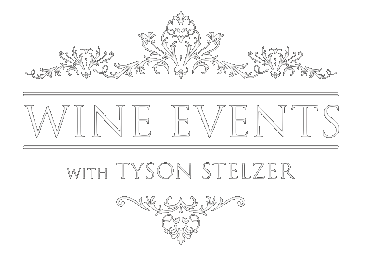 We'd love to add you to our list of friends so you're first to receive updates on all our upcoming dinners, tastings, tours, articles and books.