Tasmanian Sparkling: Storm Warning
For the past five years I've had the privilege of presenting the keynote speech at the black tie gala dinner at Effervescence Tasmania. I've never published my comments before, but this year is different, and by popular request on the night, here's my transcript.
Tasmanian sparkling has more than ever to celebrate this year. And there's more to be prepared for, too. Tasmanian sparkling is on the move, and things are about to change like never before.
Tasmania is on the cutting edge of Australian cool climate viticulture, and although it still accounts for less than 1% of the national harvest, this vintage it broke records, not only in volume, but in record value of almost $3,000 per tonne. This put Tasmanian wine grapes at almost five times the price of mainland Australia and more than double the price of the Adelaide Hills and Margaret River.
On retail shelves, Tasmania also continues to set benchmarks, with prices now almost three times higher than the Australian average.
Tasmanian sparkling has more reasons to raise a glass than ever, and its success has bred record demand. Its growers have responded with significant new plantings, and production is poised to mushroom. Vineyard area has grown by more than 400 hectares over the past five years, representing more than 25% growth.
And it's about to explode. Estimates suggest that this year's plantings alone could exceed 600 hectares. This means that Tasmania has put more vines in the ground this year than in all eight years since 2009 put together. Industry projections estimate that by 2020, Tasmania could be producing 18 million bottles of wine. That's more than double the annual average of the past five years. And 2020 is less than 14 months away.
Herein lies the great opportunity for Tasmania. And herein lies its biggest challenge. How can Tasmania uphold its premium value while doubling production?
We do well to learn from the pitfalls of the past. German riesling crashed when production exploded in the 1980s. New Zealand sauvignon blanc imploded in the same way in the 2000s. Is Tasmania destined to go the way of Blue Nun and Oyster Bay?
How can Tasmania possibly uphold value and demand when this year's plantings trigger mushrooming production beyond anything that the locals and tourists could possibly drink?
The key, of course, must be exports.
And to succeed in global markets, Tasmania must focus squarely and resolutely on its benchmark wine style. There is one and only one style capable of defining Tasmania's place in an ever more competitive wine world.
Tasmania's flagship is sparkling. Its international currency is sparkling. Tasmania's future is sparkling.
I am not saying this because sparkling has been the world's fastest-growing wine category of the past 25 years, growing globally at almost five times the rate of still wine.
I am not saying this because sparkling ranked as Australia's fastest-growing export category last year, exploding at six times the rate of still wine exports, and yet still representing a tiny 2% of total shipments.
And I am not saying this because Champagne is on the brink of undersupply to meet rising global demand and will push prices on a steep upward trajectory to match spiralling production costs. This heralds an enormous opportunity for Tasmania. But even this is not the reason.
I am saying this because no region anywhere on the planet outside of Champagne itself makes sparkling as exceptionally as Tasmania. And I am more convinced of this now than ever before.
Six weeks ago I took 27 Tasmanian sparklings, chardonnays and pinot noirs to New York and San Francisco and poured them for 160 of the great wine trade and media of the United States. New York Wine Writer Penny Weiss summed up the sentiments of everyone at the end of the tastings:
"I can't stop talking to everyone about the sparkling wines!" she told me. "I am so impressed! I have tasted sparkling wines from around the world and the Tasmanian sparkling wines rank in the top three on my list! The pinot noirs and chardonnays were good, but I didn't walk away with a 'wow' on my palate. I feel that with the right marketing, the sparkling wines of Tasmania can give France a run for its money in the US Market!"
The US today is the world's biggest and fastest-growing importer of sparkling wines, responsible for landing more than 180 million bottles last year, and growing at almost 5% per annum. This market offers tremendous opportunity that Australia has failed dismally to realise. Australia produces 3% of the world's sparkling wine yet supplies just 0.5% of US imports. And it's getting worse. Australia's sparkling exports to the US have halved in the past five years. Of these tiny figures, Tasmania represents a miniscule proportion, exporting just 5% of its wines.
As alarming as these numbers appear, they represent an enormous opportunity for Tasmania. But is production properly in line to embrace this tremendous possibility?
Over the past six harvests, still wine production in Tasmania has mushroomed by a factor of 2.7. Meanwhile, sparkling production has grown by just 1.6. This means that still wines in Tasmania have expanded at more than double the rate of sparkling wines.
This is all backwards. Sparkling must take the lead in Tasmania's growth.
Don't get me wrong. Tasmania makes truly great pinot, chardonnay, riesling and other varieties. Long may they continue, and long may the locals and tourists love them, as I do. But I would run out of fingers numbering the mainland regions that do these varieties at least as well as Tasmania. Not to mention New Zealand. And Oregon.
Tasmanian still wines could gain a presence in export markets off the back of the success of Tasmanian sparklings, but emphatically not the other way around. Tasmania must play its strong card first, and back it with sufficient volume for consistent and high quality supply.
Sparkling is to Tasmania what shiraz is to the Barossa, cabernet to Bordeaux, pinot noir to Burgundy. When was the last time you sought out an aligoté or gamay from Burgundy, or a carménère from Bordeaux?
Tasmania's future is sparkling. And it deserves to be properly celebrated and marketed.
Last month I hosted a prestige launch at the Sydney Opera house, in partnership with the Sydney Symphony Orchestra. No expense was spared. The budget for flowers alone was $6,000. To the glittering backdrop of sunset over the Sydney Harbour Bridge, cuvées gushed freely from magnums and bottles. The youngest wine poured was eleven years old and the oldest a glorious seventeen. Guests were presented with beautifully gift-boxed bottles as gifts at the end of the night. They were invited to sign up to a wine club with an annual membership of a cool $1,200. And sign up they did. Who would stage such a fanfare? Dom Pérignon? Cristal? Bollinger? Those were the comparisons that our wide-eyed guests drew on the night. And this was precisely the message that House of Arras aspired to send in staging such a spectacle.
Tasmania's future is sparkling. And the world is increasingly taking notice.
Last month one man was the only non-champenois to receive a Lifetime Achievement Award at the Champagne & Sparkling Wine World Championships in London, alongside the legendary chef de caves of Charles Heidsieck, Dom Pérignon, Billecart-Salmon, Taittinger, Perrier-Jouët, Lanson and Pommery. What a thrill to see Tasmanian sparkling acknowledged in such company on the global stage! Huge congratulations, Ed Carr!
The outpouring of support for Ed's achievement from the good and the great of the global wine industry was overwhelming. My Facebook post alone solicited more than 530 responses.
On Wednesday, Nat Fryar flew to Brisbane to showcase her new Bellebonne vintages with me for the local wine trade, media and public. Last month, she did the same with me in New York and San Francisco. At the conclusion of our tasting in New York, Forbes Writer Gary Walther declared Nat "a national treasure, perhaps the most articulate person I've ever spoken to in the wine world." I know what it cost Nat to be there, and she will never recoup those costs in sales. But she is making an investment of immeasurable value in telling the stories and pouring the wines that make a resounding statement, a declaration that Tasmania is making the best sparkling wines in the new world, and that they are worthy of commanding champagne prices.
Tasmania's future is sparkling.
Last year at Effervescence we did a daring thing for the first time, and we'll do the same tomorrow. We staged a blind tasting of my top four Tasmanian sparklings alongside my top four Champagne and British cuvées under $150. The great houses of Bollinger, Pol Roger, Charles Heidsieck and Nyetimber, no less. The assembled masterclass guests had no clue of what was in their glasses, and in front of the Landline cameras they voted the overwhelming crowd favourite Arras EJ Carr Late Disgorged 2003.
When that story hit the national airways earlier this year, Effervescence almost sold out overnight. And we scurried to schedule more masterclasses and events to meet demand.
Tasmania's future is sparkling.
These are the messages that will uphold Tasmania's value and demand in the wake of mushrooming production. These are the stories that will put Tasmania in pride of place on the great wine lists of the world. And these are the reasons why we are gathered here for more than just a festival weekend.
Effervescence Tasmania has a vital role to play, and never has it been more pertinent than right now, as we are perched on the precipice of exploding production. Effervescence Tasmania is the showcase and the champion for the one and only wine style with the potential to secure the future of the entire Tasmanian wine industry.
Tasmania's future is sparkling.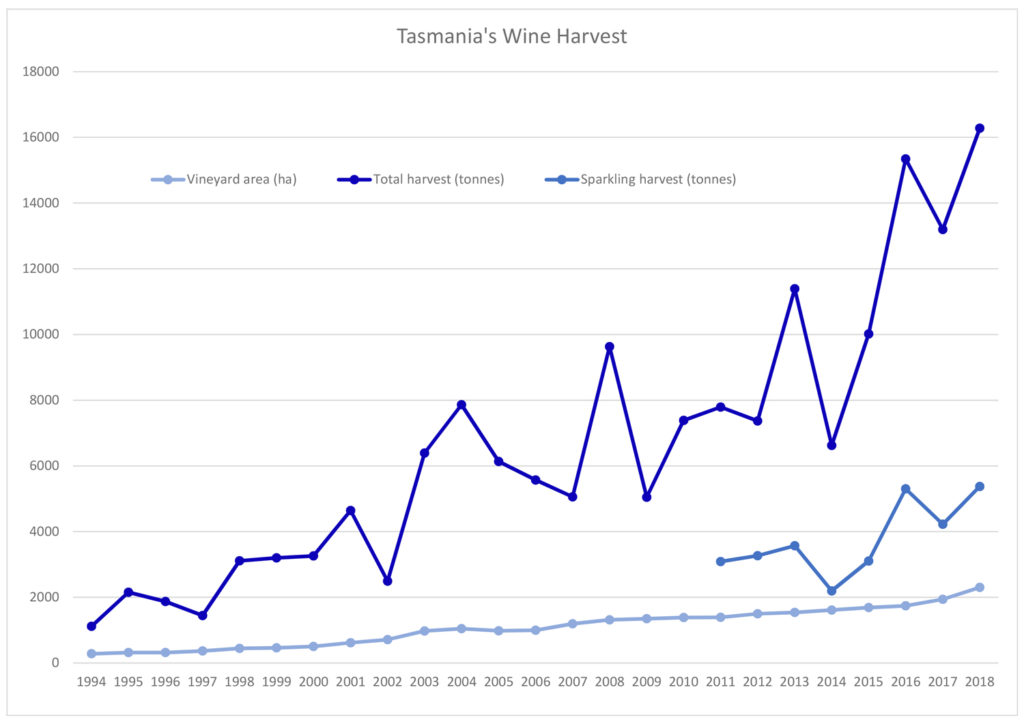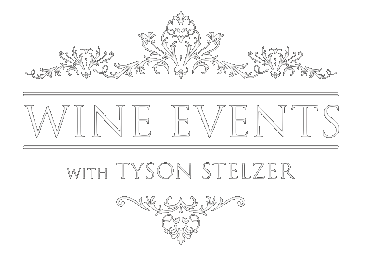 We'd love to add you to our list of friends so you're first to receive updates on all our upcoming dinners, tastings, tours, articles and books.