The Champagne World 1999-2019
Introducing the most comprehensive champagne market report this century.
The story of champagne is more than vineyards, cellars and families – its evolution across the vast sweep of history has always been inextricably tied to its acceptance and adoration across its diverse markets. More than any other region, champagne production is linked to its sales. Even its authorised annual harvest yields are set stringently according to projected demand. To see the future of champagne, take a long and focused look at its markets today.
My home in Australia is about as far from Champagne as it is possible to live, and I make it my aspiration not only to get under the surface of the region itself, but to embed myself in the rapidly evolving place of champagne across the vast and volatile world of wine.
We are witnesses to a steady march toward a new and dramatic champagne world order this millennium, and no year has exemplified this more emphatically than 2019.
At the time of writing in June 2020, with more than half of the world's population beginning to emerge from lockdown in the intensifying fight against coronavirus, it might seem that champagne's sales in the first two decades of the new millennium are now completely inconsequential. In fact, precisely the opposite is true. I am convinced that champagne's market performance, culminating in 2019, now bears a profound and new significance.
The world order that we took for granted just a few short months ago seems a distant memory in the wake of 'the ceaseless showreel of calamity and disaster that now passes for everyday life,' as one UK retailer poignantly observed. As a premium category and the universal symbol of celebration, the impact on champagne of the coronavirus pandemic is particularly acute, with sales since the beginning of the crisis down 75 percent year on year, according to Jean-Marie Barillère, president of the Union des Maisons de Champagne and co-president of the Comité Champagne.
In introducing his 2019 Exports Report, Comité Champagne Directeur Général Vincent Perrin rightly cautioned, 'Given the current context, it should not be used to make projections for 2020.' This is the year that will invariably go down as the biggest blip in every sector in modern history, with every trend denoted by an ominous coronavirus asterisk.
And this is why, for years and perhaps decades to come, we will continue to reference champagne's performance up to and including 2019 as defining the direction for the future of champagne. The forces at play in Champagne and across its world markets that have driven these trends will continue to play out and indeed intensify for many years to come.
At a time of global doom and gloom, there are many effervescent developments to be drawn from champagne's performance in 2019: promising trends that will long outlive the blip of current circumstances.
For this reason, it is my great pleasure to introduce what must be the most detailed and comprehensive champagne market report of the modern era, a rigorous fermentation of all the latest trends and analysis to emerge from up-to-the minute data. I have fully updated my annual market reports (now in their seventh year) and greatly extended their scope to present a detailed trawl through the global performance and trends of champagne in its top ten markets.
The result is my most in-depth analysis yet: eleven reports in one, boasting over 400 pages devoted to more than 500 graphs (including 185 all new 3D graphs) and detailed analysis of 190 distinct market trends, unraveling the intricate detail of every facet of each of champagne's most important markets over the past two decades.
Each country's analysis is self-contained, and features its own hyperlinked contents page, for ease of access for those with an interest only in particular markets. And if you prefer to ignore the graphs and numbers altogether, each country leads out with everything you need to know in a succinct one-page infographic summary, providing a full snapshot of all the key trends in 2019.
It is to these trends, and to the sparkling bright future that they define for champagne, that I devote this report, The Champagne World 1999-2019.
Tyson.
Data and analysis of this depth and detail typically costs thousands of dollars. In the unprecedented circumstances of 2020 and their acute impact on champagne sales, not everyone who stands to gain most from this report has the resources to afford what it is worth. Times of challenge are times of opportunity, and the winners emerging from this current era will prove to be those who are the most strategic and the best informed. Astute market insights have perhaps never been more pertinent, and I do not want to deny those who need these most. For those with the means to do so, I invite you to pay for this report according to the value that you would ascribe to a resource of this magnitude. Current circumstances have wiped out my events and 96% of my livelihood this year, so your support means more than ever at this time. – Tyson.
View all 401 pages in 41 seconds!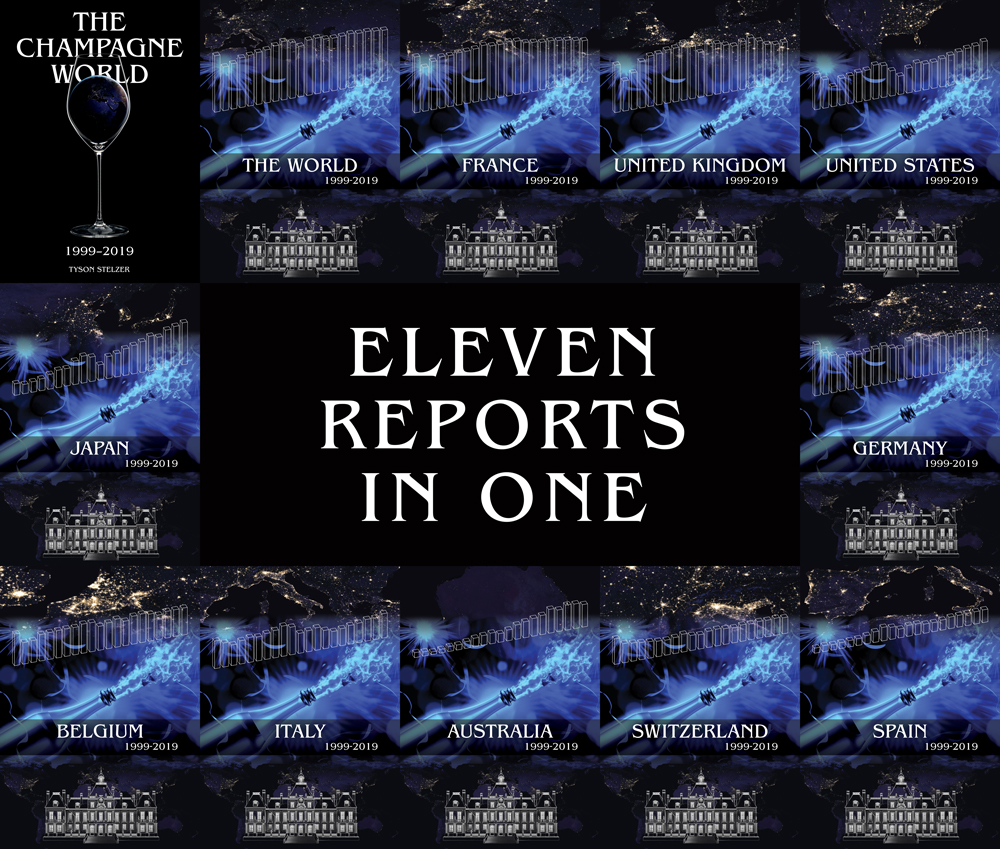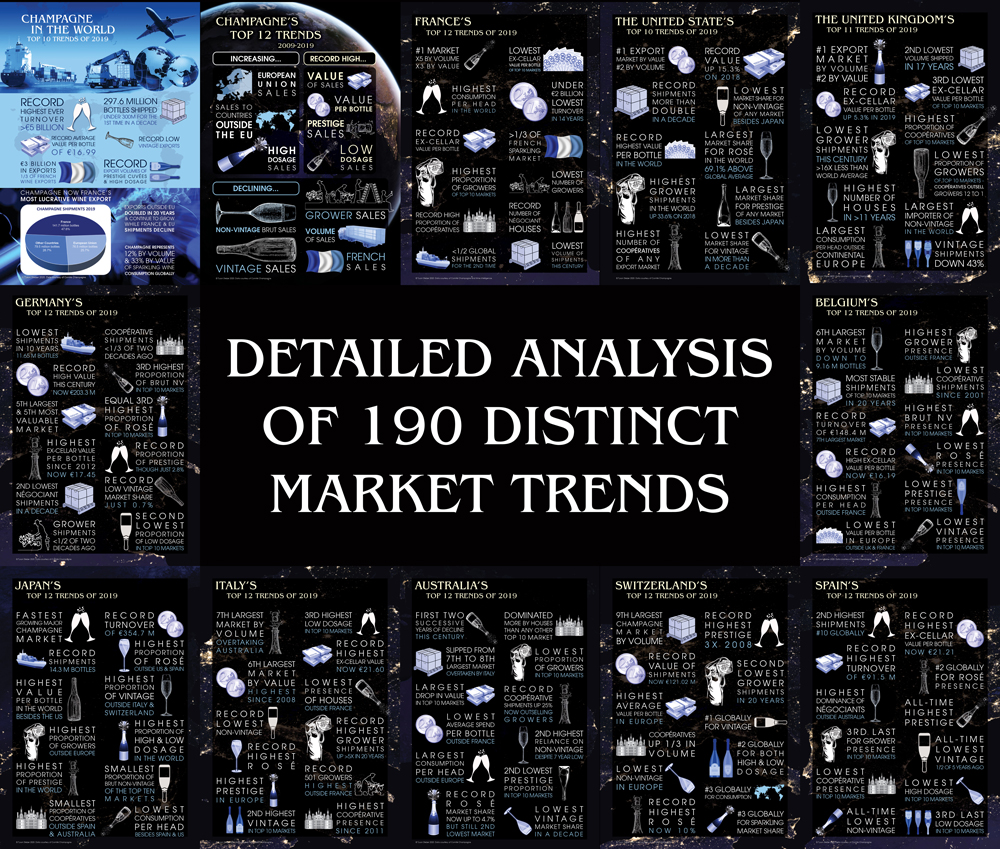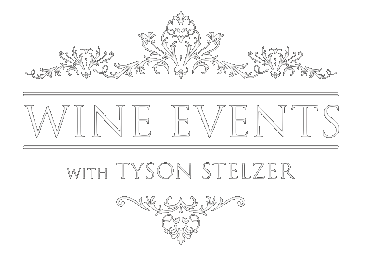 We'd love to add you to our list of friends so you're first to receive updates on all our upcoming dinners, tastings, tours, articles and books.