Wine that doesn't cost the earth
This article first appeared in Style Magazine, April 2008
Tyson Stelzer
Enjoy a bottle of imported wine and save the planet in the same sip. Tyson Stelzer explains how it's done.
What will you be drinking in ten years? If current trends are anything to go by, there's a good chance it might be something from far shores. Last year we Aussies guzzled twice as much imported wine than in any year in history.
There's a revolution going on in foreign wine, and it's not just New Zealand Sauvy. At a time when Aussie winemakers are churning out better wine than ever, why all the hype about imports?
If you've had a chance to taste some of the exciting wines coming out of France, Italy, Spain and Portugal – not to mention South Africa and the Americas – you will understand that these are wines of a different style to our home-grown examples.
The best value wines in the world still come from our own shores, but many drinkers are on the prowl for something different, something quirky or simply something better suited to foreign cuisine. There's an exciting world of wine awaiting discovery, and more of it keeps popping up on our local shelves. The future certainly looks exciting.
But what about the impact on the future of shipping wine around the planet? Food miles and carbon credits are edging into our culinary conscience, and rightly so – two kilograms of carbon is emitted for every bottle of wine shipped from Europe to Australia.
Should we do the responsible thing and look out for the environment by supporting our local makers? We need to exercise a modicum of common sense here. Look at it the other way. If Europe and America were to apply the same logic, the wine industry of their most important wine source – and, for that matter, the furthest away geographically – would collapse overnight. You guessed it, that's us!
More and more wineries are taking a carbon-neutral approach to the production and transportation of wine. Cullen Wines in Margaret River was Australia's first. When you can't buy carbon-neutral, why not apply your own system of carbon credits?
Trucking two bottles of spring water across Australia produces as much carbon as shipping your bottle from Europe, so why not filter your tap water and enjoy your Burgundy with a clear conscience?
If you live more than 4km from your bottle shop, you'll produce more carbon driving there and back than it takes to ship your bottle from Europe. Cut down your trips by buying a case instead of a bottle at a time. You'll save petrol, save the world – and get a bigger discount on your wine at the same time! It's also the perfect excuse: "But honey, I had to buy the whole case – it was the responsible thing to do!"
Tyson's Picks
Gunn Estate Skippers Pool Sauvignon Blanc 2007, $18
New Zealand Sauvignon doesn't get any better than this under $20. It's got all the Sauvy flavour you'd expect, but doesn't lose control for a moment. (Dan Murphys)
Quinta de la Rosa Val de Clara Tinto 2006, $18
Tinto is a red variety from the traditional home of port, the Douro Valley in Portugal. Val de Clara is a brilliant peppery, exotically spicy, red berry quaffer. (Festival Cellars)
Bonneau du Martray Corton-Charlemagne, Grand Cru 2005, $199
This is a bargain price for benchmark Grand Cru white Burgundy from one of the most reputed producers in Corton, from the vintage of the decade. Don't miss it. (Emporium)
Bollinger La Grande Année Rosé 1999, $289
Forget the price, some occasions demand the best, and this is it. A surreal juxtaposition between refined finesse and rich complexity, this is a wine to propose to. (Widespread distribution)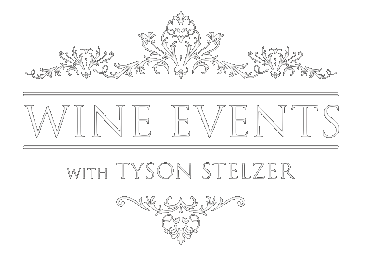 We'd love to add you to our list of friends so you're first to receive updates on all our upcoming dinners, tastings, tours, articles and books.